You Got To Choose Your Auto Gate Contractor Wisely
Pentingnya untuk dapatkan auto gate services dari autogate specialist tidak kira masalah dengan autogate motor, auto gate bottom roller, gate bearimg atau gate hinges sebab mereka akan baiki autogate anda dengan cara yang betul dan berkesan. Jangan nanti masalah autogate lain yang datang.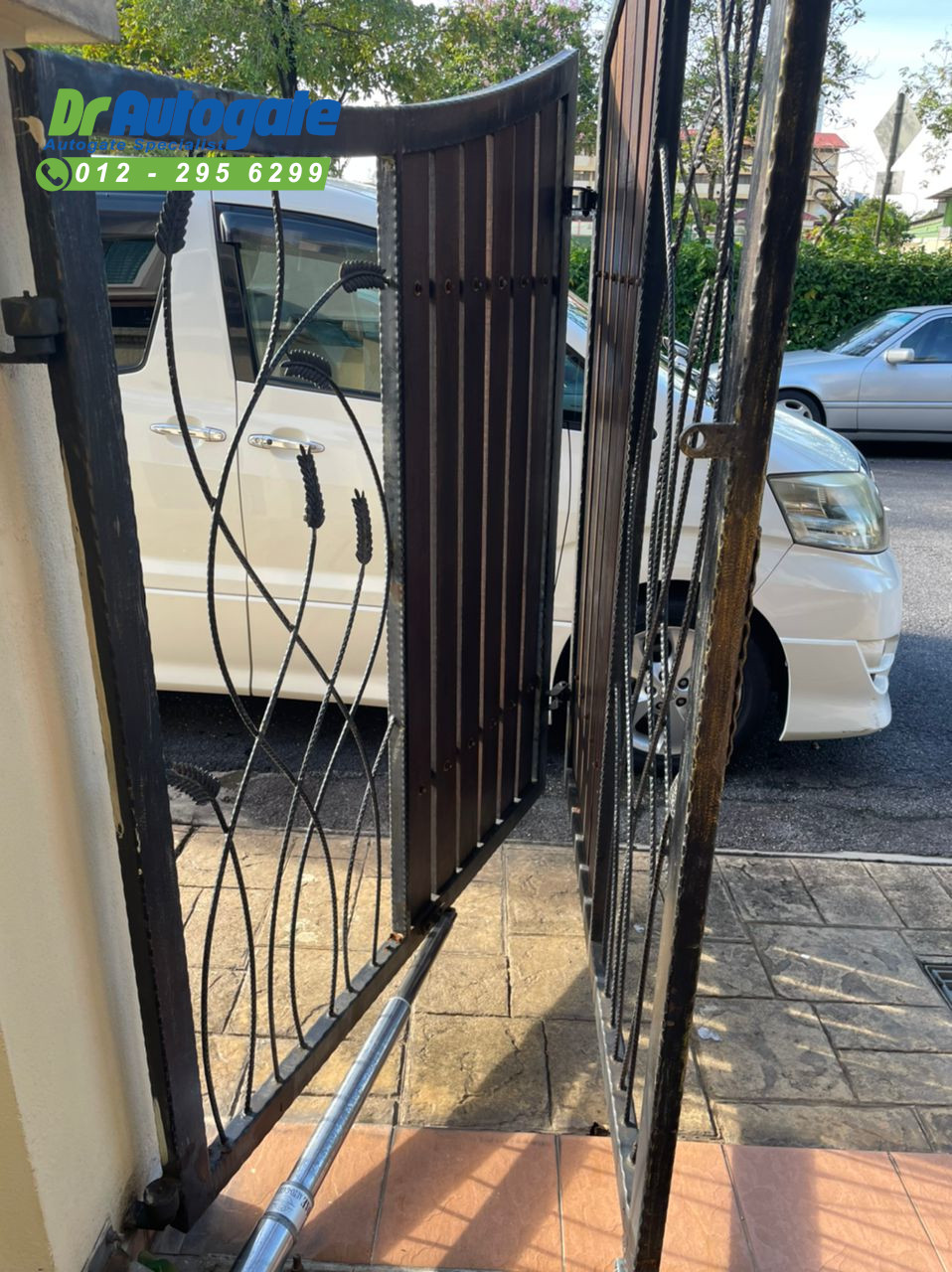 Fix Your Auto Gate With The Right Way
Jika ditengok pada gambar autogate tersebut, anda rasa apa masalah pada folding auto gate yang berlaku? Masalahnya ialah autogate tak boleh buka habis, autogate not fully open sebab ada masalah dengan folding gate hinges/ engsel. Ceritanya customer baru sahaja tukar gate hinges tersebut dan yang buatnya adalah orang indonesia. Pertama mereka salah guna saiz hinges, keduanya mereka salah pasang. Sekarang apabila ada masalah, mereka sendiri tak boleh settle, duit dah ambil. Jadi servis kami diperlukan untuk selesai masalah gate tersebut.
Call The Gate And Autogate Expert Now At 012 – 295 6299
Sekiranya auto gate contractor anda sendiri tidak boleh selesaikan masalah, boleh hubungi kami sekarang. Apa sahaja auto gate repair services yang anda perlukan termasuk servis baiki roda autogate, baiki tayar auto gate, roda auto gate tercabut, install/ replace auto gate stainless steel wheel, auto gate roller bearing damaged repair kami adalah auto gate roller wheel supply Malaysia, replace auto gate roller dan autogate wheel repair malaysia gate wheels klang valley. Kami sentiasa ada untuk auto gate repair near me, auto gate installer near me dan berada untuk auto gate klang valley area.
Kami menyediakan auto gate repair service Klang Valley! Baiki autogate anda dengan 3 langkah
Dapatkan bantuan untuk memperbaiki autogate anda dalam 3 cara ini
Ambil beberapa gambar autogate dan motor anda (dari kedua-dua bahagian)

Hantarkan gambar tersebut melalui Whatsapp pada 012 – 295 6299 (tekan nombor ini untuk berhubung dengan kami)

Kami akan menghubungi anda untuk menetapkan masa untuk kami memberi servis
Tidak perlu tunggu lagi. Kami di sini ada membantu anda! Sila hubungi talian kami di 012 – 295 6299.
Here's what to do:
Take a few pictures of your gate and motor (from both sides)

Send the photos through WhatsApp to 012 – 295 6299 (click tel number to chat with us)

We will call to arrange an appointment for service
Apa yang anda fikirkan lagi, cepat hubungi Dr Autogate 012 – 295 6299 untuk penyelesaian masalah autogate anda dan juga boleh layari www.DrAutogate.com.my
Nak Pasang Autogate, Nak Servis Autogate.. Call lah Dr Autogate!
https://drautogate.com.my/wp-content/uploads/2022/01/Autogate-Expert-setiawangsa-1.jpg
1280
958
autogate
https://drautogate.com.my/wp-content/uploads/2019/05/dr-auto-logo.png
autogate
2022-01-13 09:03:07
2022-01-14 05:26:30
You Got To Choose Your Auto Gate Contractor Wisely