You Need Our Services To Repair Your Autogate? Call Us Now
Mencari auto gate repairer, autogate arm repair service yang boleh baiki autogate anda on the spot? Dr Autogate anda penyelesaian terbaik untuk masalah autogate anda. Macam mana kami boleh selesaikan terus autogate problem anda? Sebabnya team kami pengalaman mencari punca autogate tak berfungsi dengan baik dan auto gate spare parts semua kami dah sediakan untuk pelbagai model autogate dan jenama autogate, hanya tinggal ambil dari van service kami dan boleh terus gantikan.
Kali ini auto gate repair services kami agak jauh sikit di jalan 8/2A taman wilayah 68100 batu caves kuala lumpur dimana oae 333a arm autogate one side customer tak boleh tutup puncanya sebab customer terlanggar. Customer cari autogate repair selayang dulu yang terdekat dengan rumahnya untuk tukar oae arm autogate tersebut urgent sebab customer nak pergi outstation, tapi malangnya semua yang autogate repairer atau atau installer yang dihubungi semua tak boleh tak ada oae autogate spare parts jadi tak boleh buat on the spot. Yang selesaikan masalah oae autogate customer adalah Dr Autogate baik, nasib ada abangnya yang bagi nombor kami. Selepas troubleshooting untuk double confirm memang satu batang oae 333a arm autogate yang sebelah kanan tak berfungsi lagi, jadi kami gantikan oae arm autogate baru dan original. Lega customer masalah autogate nya selesai dengan cepat.
Autogate installer ada tidak boleh membantu? Atau tak jumpa siapa installer autogate anda? Jangan risau, Dr Autogate boleh tolong selesaikan masalah oae arm autogate. Dr Autogate dengan semua OAE 333a auto gate system spare parts OAE 333A auto gate swing arm, OAE auto gate dc motor, OAE autogate transformer, OAE auto gate control panel, OAE auto gate bracket. Untuk customer kami menggantikan satu OAE stainless 333a arm autogate dimana on the spot kami boleh buat.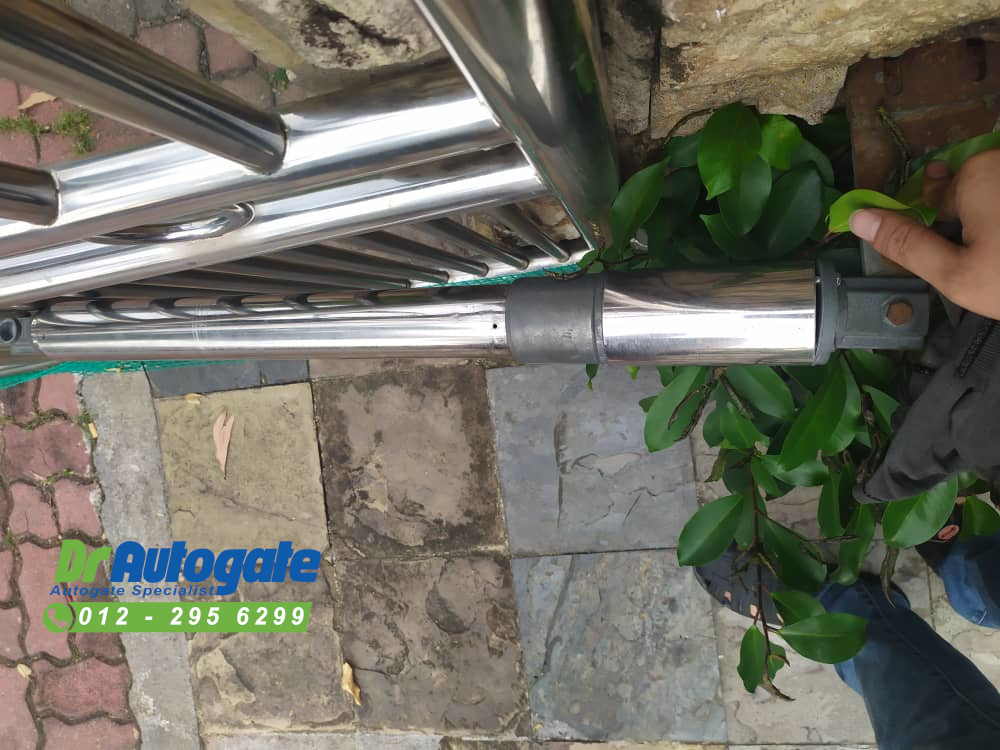 Kami menyediakan auto gate repair service selayang, batu caves, gombak! Baiki autogate anda dengan 3 langkah
Dapatkan bantuan untuk memperbaiki autogate anda dalam 3 cara ini
Ambil beberapa gambar autogate dan motor anda (dari kedua-dua bahagian)

Hantarkan gambar tersebut melalui Whatsapp pada 012 – 295 6299 (tekan nombor ini untuk berhubung dengan kami)

Kami akan menghubungi anda untuk menetapkan masa untuk kami memberi servis
Tidak perlu tunggu lagi. Kami di sini ada membantu anda! Sila hubungi talian kami di 012 – 295 6299.
Here's what to do:
Take a few pictures of your gate and motor (from both sides)

Send the photos through WhatsApp to 012 – 295 6299 (click tel number to chat with us)

We will call to arrange an appointment for service
Apa yang anda fikirkan lagi, cepat hubungi Dr Autogate 012 – 295 6299 untuk penyelesaian masalah autogate anda dan juga boleh layari www.DrAutogate.com.my
Nak Pasang Autogate, Nak Servis Autogate.. Call lah Dr Autogate!
https://drautogate.com.my/wp-content/uploads/2021/11/OAE-Autogare-Repair-Selayang.jpg
750
1000
autogate
https://drautogate.com.my/wp-content/uploads/2019/05/dr-auto-logo.png
autogate
2021-11-08 06:20:11
2021-11-08 06:20:11
You Need Our Services To Repair Your Autogate? Call Us Now