What is Autogate?
Autogate is an automated gate opener. When installed, it will automatically open or close a gate.
Autogate gives you protection and comfort. You will no longer have to leave the safety of your car in the summer heat, winter cold, or pouring rain to open your gate.
It provides convenience for drivers and everyone in the household, allowing complete control whenever anyone leaves or enters your home.
Since the Autogate System is operated by remote control, you can open your gate from your car as you arrive, or from inside your home when someone else arrives. You'll be able to open or close your gate from a distance at the press of a button. Just think about how good it will feel when you come home tired at the end of the day and you don't have to get out of your car to open the gate manually. It will always be easy to park your car with an Autogate System. You won't ever have to open your gate under the rain again.
Some might say it is a luxury to have an automatic system like the Autogate, but there are plenty of reasons that make it a necessity in any home.
Aside from convenience, the Autogate system provides added security for your property. The risk of break-ins is reduced since only someone with the remote control can open the gate. Installing an automated gate will give you a new level of confidence when it comes to the protection of your home and family.
Different Types Of Autogate Systems
There are four primary models of Autogate systems currently available. You can choose from the underground swing, mounted pillar, swing arm, or sliding Autogate.
Underground swing Autogate system (for swinging gates) – This type of installation is an underground motor that is designed to be used with gates that swing in and out. There is no need to modify anything on the gate. The motor sits underground out of sight. As one of the oldest designs, more than 5000 of the underground Autogate motors have been sold and installed by us. Some existing underground comex SE1, CEI swing underground, Victor, Gforce, Power Gate, Door Mex, Comex, Supermax, Apprigate, Mag, Letron, Good 1, Ranger, Radion, DKC, Snontec, Li Gates, DKC, Supermax and Doormax are still working perfectly after more than 15 years of service. It takes some skill to install this type of system properly. If the motor is not properly placed, water can get inside and damage the system. Since so many underground Autogate systems have been installed, you are probably using this type of system. Please call us if you need repair service for an underground Autogate system.

An example of Underground Autogate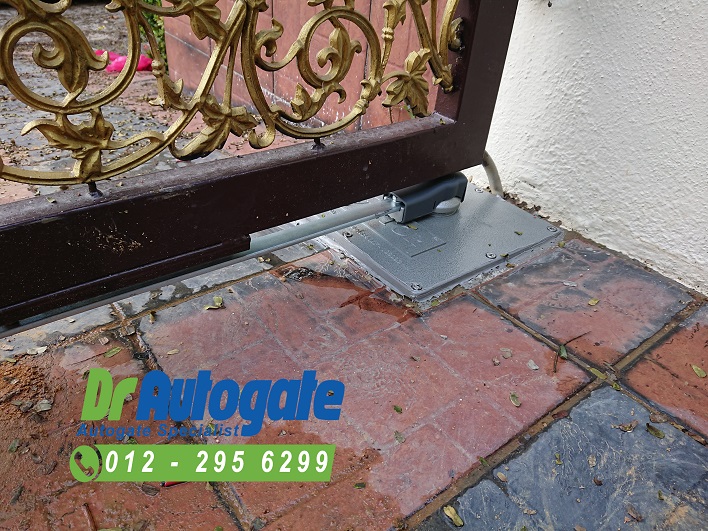 An example of Underground Autogate
Mounted pillar Autogate system (for swinging/folding gates) – The Pillar Mounted Autogate motor is attached to a pillar with this system. It is designed for folding or swing type gates. Ideally, a folding gate should have three-meter leaves for the system to work most effectively. Not many requests for new installations are made for this system. Most of our orders are for repairs because the original gate installers didn't keep any of the spare parts for the Autogate system. They often outsourced to an Autogate company to do the installation but do not provide after sales support once the installation is done. We highly recommend you to engage a reliable autogate company for your autogate needs.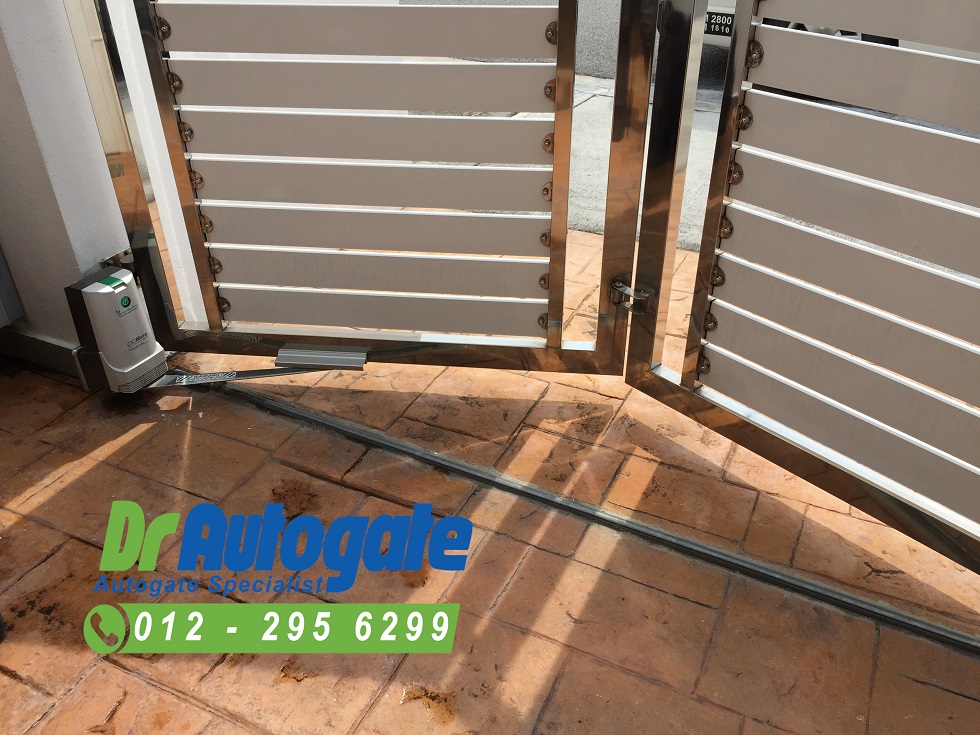 An example of Pillar Mounted Autogate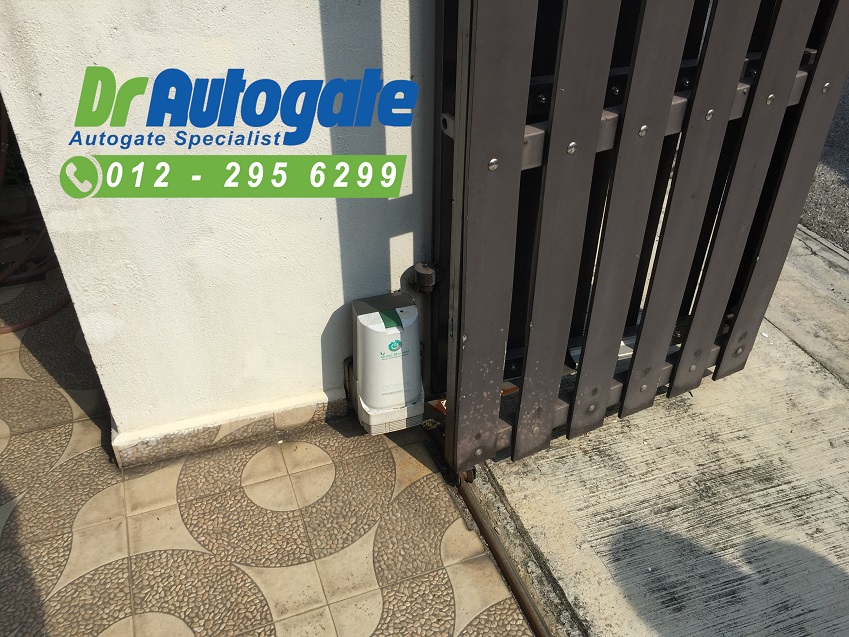 An example of Pillar Mounted Autogate
Swing arm Autogate system (for swing gates) – This type of auto gate system is called swing arm auto gate system which requires very little maintenance and is known to be very reliable. It uses what is known as an electro-mechanical arm motor. We recommend the FBM Arm Autogate System, which is a very well-known brand that is made in Malaysia. All of the components of the FBM system are of the highest quality, with the coupling and gearbox made from carbon steel. The FBM housing is made of stainless steel and die cast aluminium. These materials are known for its corrosion resistance in harsh environments. FBM arm autogate systems are provided solely to established autogate installation companies. Only two authorized dealers exist in each state. For example, there are only two FBM authorized installers and sellers in Klang Valley.
Swing gates are designed to swing in and out on bearings. They are the most popular type of gate in Malaysia. Since they have very few moving parts compared to other types such as folding gates, they are usually quiet and owners encounter few problems.
Do you have enough room for a swing gate? What happens if the gate swings too far? Do you usually park other cars outside the swing gate? These things can create issues with swing gates. If the gate swings too little or too far it can create the possibility of damage to incoming vehicles (Original: If the gate opening is big enough, then the gate will swing out too far posing a threat of damage to the incoming cars).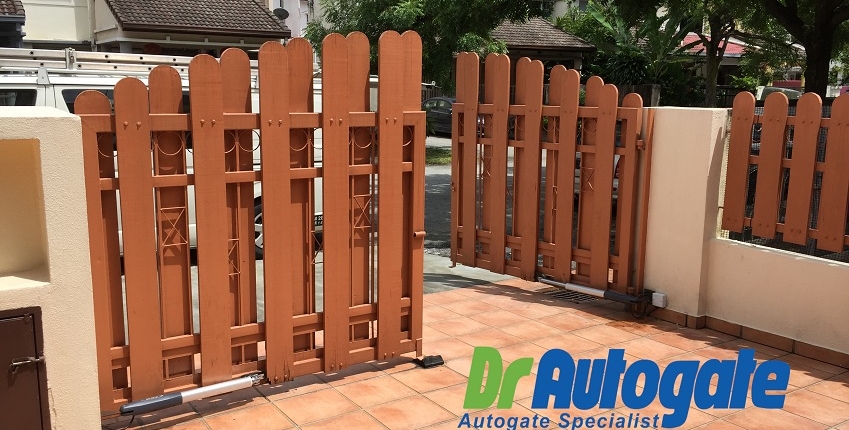 An example of Swing Autogate
Folding gate Autogate system – Folding gates, also called bi-fold gates, can take up much less space than other designs. They are the trend in Malaysia at the moment. Their design can cause some issues, however. The wheels tend to jump off the track if installation is not done correctly.
This folding gate auto gate system uses an arm controlled by a motor that will open or close the folding gate. This type of auto gate system is often called an Arm Autogate System. This system also works well with swing gates. We have several famous local brands of arm Autogate systems available including FBM, Mexigate, OAE and Dnor.
We rank FBM number one. We carry world best autogate brands like Beninca, DEA, BFT and FAAC as well.
An example of Folding Autogate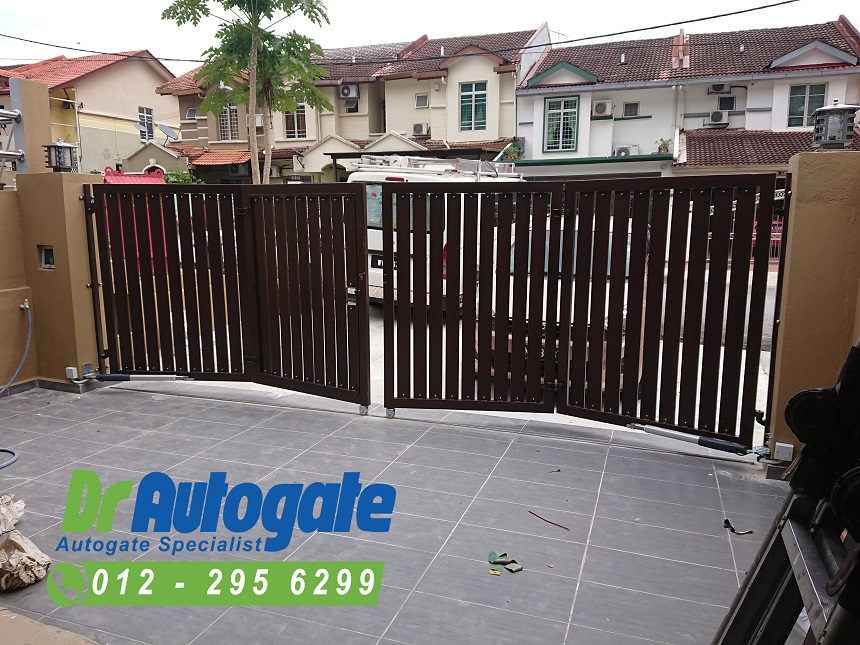 An example of Folding Autogate
Warning!! Known Problems With Folding Gates! We Offer Wheel/ Roller Replacement!
The folding gate can become difficult to open and close because of wheels on the bottom coming off of their tracks. This is caused by worn wheel bearings. A bearing worn badly enough will eventually make the wheels to fall off. Don't worry, though. We'll be happy to assist you if you encounter this folding gate roller jump off trail problem. Just give us a quick call at 012 – 295 6299.
Sliding gate – A sliding gate moves to the left and right on a track. They are considered to be a superb alternative to folding gates or swing gates when a higher level of security is desired. They are most often used in industrial settings or with semi-detached, bungalow houses. This type of gate locks in place and cannot be moved when installed with a sliding auto gate motor. This is the best choice where higher security level is required.
Sliding gate Autogate system – The autogate motor will open and close the sliding gate by moving it from left to right and vice versa.
An example of Sliding Autogate
An example of Sliding Autogate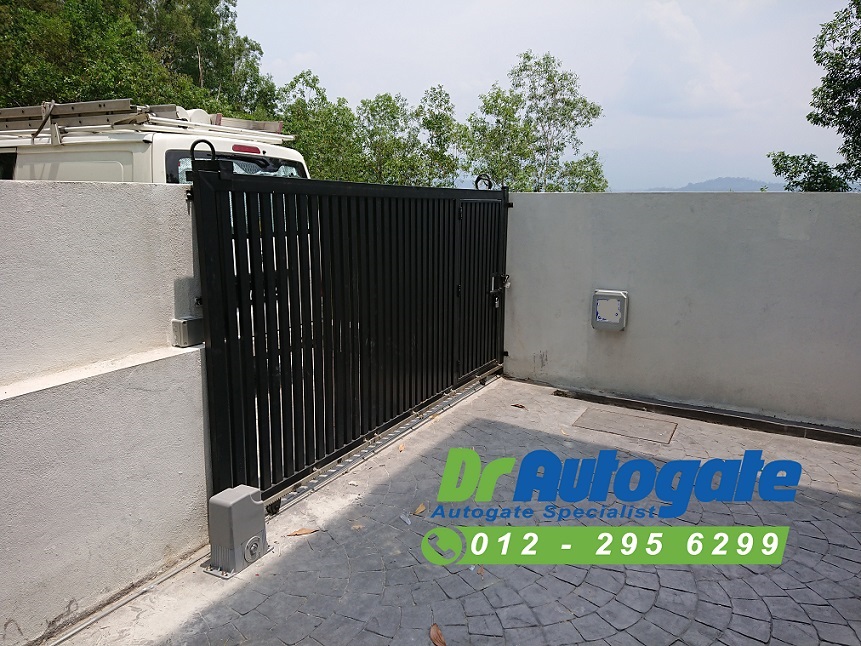 An example of Sliding Autogate
Famous Malaysian Autogate Maker – FBM
FBM is a well-known local auto gate manufacturer of ac sliding autogate motors, dc sliding autogate motors and swing arm autogate motors. Their sliding autogate systems are used in many industrial and residential settings and FBM auto gate spare parts for their systems are readily available locally.
How much does your sliding gate weigh?
The weight of a sliding gate is an important factor to consider when buying an autogate system. The weight is determined by the material(s) used to make the gate. Stainless steel WAS a popular choice back in 1990. It is light in weight. The heaviest gates are those made with iron. The strongest autogate system we have available includes a support system and motor that are capable of moving a gate that weighs up to 5000 kilograms.
How frequent do you open and close your sliding gate?
If your gate will be opened many times on a daily basis, you should consider an autogate system designed for intensive use. This type of autogate system is specifically designed for continuous, intensive use and will not overheat easily. An overheating motor can damage the whole autogate system. Therefore normally the autogate makers will include a thermal cut out function to prevent the motor from overheating.
Many local or Italian autogate systems are not suitable for heavy or continuous use because of their duty cycle rating. A motor's duty cycle indicates how many time every hour the motor and operate. A duty cycle rating of 50%, for example, means that a motor can run continuously for 30 seconds before it must be shut down and allowed to cool. The motor will require 30 seconds of rest to cool down after every minute of continuous use. This type of motor is meant for light usage in a residential or business setting. If the motor is not allowed to properly cool, it will most likely become damaged from overheating.
Autogate Buyer's Guide – Choose The Right Autogate System
You will need to know the mechanical operation and measurements of your gate before you can choose the right type of autogate for you. For first-time buyers, you'll find yourself in good hands if you stick with established auto gate brands like FBM, Mexigate and OAE.
What Brand Do We Recommend? FBM Is Our Recommended Brand
We recommend FBM autogate systems. Unlike other companies, they have their own facilities for manufacturing. Most other local companies that call themselves manufacturers don't actually make their systems themselves. Production is outsourced to various suppliers and the so-called manufacturer merely assembles the parts. FBM is equipped to do everything themselves. They have many big machines which include water jet cutters, laser engraving machines, CNC cylindrical grinding for making precision shafts, CNC laser cutting machines, press machine, CNC milling, CNC lathes, etc. Spare parts for FBM autogate system are also available everywhere.
Checklist For Choosing The Right Autogate System
Mechanics of your gate: Sliding, Folding, or Swing?
A gate will open by either a) swinging, b) folding, c) sliding.
A swing gate opens similar to a normal door in your house.
Slide gates sit on wheels that fit into a track and open from side to side.
Consider the length of your Sliding Gate
Before you can choose an autogate system for a sliding gate, you will need to measure the gate's length.
Folding gates are also known as bi-fold gates. Most bi-fold gate designs have two metal leaves on each side of the gate that move on hinges in the center. This allows the whole gate to open faster. Most folding gates have wheels which require high maintenance.
Swing Gates: Measure Each Leaf Of The Gate
The different autogate systems are designed to work with gates that have a specific leaf length. Gates with shorter leaves will require SHORT arm auto gate system while gates with longer leaves will require either standard arm auto gate system or longer arm autogate system. You will need to measure the length of the leaves on your get to decide on the proper autogate system.
Different Gate Materials
Aluminium Gates
Pros – Aluminium is lightweight, resistant to weather and does not rust. An aluminium gate will stay looking good for many years.
Cons – Aluminium is not nearly as strong as steel. Any direct impact with the gate can cause it to bend. If security is a high priority, aluminium is not a good option.
Steel Gates
Pros – Steel is very strong and does not bend easily. It is a much better choice for high-risk environments where the gate might be hit.
Cons – Steel gates are vulnerable to rust. Paints peel and colours will fade. Steel gate require considerable maintenance to maintain appearance.
Stainless Steel Gates
Pros – Stainless steel is highly resistant to corrosion. Maintenance and cleaning are easy. It is lightweight and extends the life of hinges and bearings. Overall maintenance costs are generally low.
Cons – Stainless steel requires argon welding. Fumes from this type of welding may cause cancer and lung damage. Because of the risks associated with this, labour costs are usually higher with this material.
What Is The Best Choice For Material?
To provide the best security for a residential property, we would suggest a steel frame with aluminium panel. If the steel frame is treated with a high-quality primer, it will not rust for years.
Auto Gate Bearings, Tracks & Wheels/ Rollers
Types Of Tracks
Round Track – This is the most popular for residential use. The track is made of round pipe.
An example of Round Track
Angle Track – This is most often used for commercial gates. Angle track can be 4mm, 6mm, 8mm, and 10mm thick. For gates that will be used around heavy vehicles, track of 6mm or more is recommended.
An example of Angle Track
We can help with track repairs if yours has become damaged. Simply send us some photos via Whatsapp at 012 – 295 6299.
Types Of Wheels
V groove wheels – These wheels are designed for sliding gates with angle track. The combination of angle track and V groove will push garbage and water off of the track.
We have replaced gate wheels on many commercial and residential gates. We have the tools, equipment and expertise to get the job done right. If you need heavy-duty wheels for a factory sliding gate, call us at 012 – 295 6299
UV groove wheels – These wheels are designed for round track and are most often used with folding gates.
We can replace the wheels on your residential folding gate. Just take some pictures and send them to us via Whatsapp at 012 – 295 6299.
Types Of Bearings
Does the gate swing easily?
Some gates are more difficult to open than others. This usually means that you'll need to replace the gate's bearings. A loud noise coming from your swing gate also indicates that the bearings need to be replaced.
Most gates will have two bearing on each side. If your gate is unusually large or heavy, however, it may be best to install three bearings on each side.
A heavy gate will also naturally be more difficult to open and close. If you've already checked the gate for problems and found none, you can install an FBM autogate that is capable of handling a heavy load.
If you have a problem with the bearings in your gate, it must be fixed before you can install an autogate system. We can repair your gate bearings at a great price. Contact our engineering department at 012 – 295 6299.
Is Your Autogate Cable Ready?
Both sliding and swing type autogate systems most commonly use AC power as their power source.
You should ask your wireman to install the necessary cables for you when you are doing renovations. Armour Cable is the type of cable we recommend for autogate wiring installation.
Sliding autogate – A modern sliding motor generally has a control panel built in. For an FBM sliding autogate motor, you should run seven core cables from your electrical distribution box (DB) to our FBM sliding autogate motor.
WARNING! Wiremen often share wiring between the autogate and pillar lights. This is not recommended. Since the pillar lights are exposed to the outdoor weather, they are open to lightning strikes. If wiring is shared, a power surge can travel to the autogate system and damage the control panel.
Swing or folding autogate – You will also need seven core cables from the DB to the control panel. In addition, you will need two core cables each from the left and right side pillars to the control panel. If your budget allows, laying four core cables from each pillar will give you backup connections to use in case one of the primary connections becomes damaged.
This is high quality armour cable
Use only Malaysia Made Armour Cable (Make sure you don't join cables)
Normal home electrical wires are used for outdoor application
ADVICE!
You should not take a risk just to get a cheaper deal on autogate wiring. When making repairs on existing autogate systems, we find that the source of many problems is simply cheap wires.
Try not to use normal electrical wires as they will not stand up to the hot Malaysian weather.
Installation service from Dr Autogate includes wiring for the power source you want to use with your autogate. Take some photos of your car porch and send them over to us via Whatsapp at 012 – 295 6299. We'll send you our best quote.
Do You Need Push Buttons?
Push buttons are used to control your autogate system manually. It is usually located with your main switches and it is hardwired.
Swing or folding autogate system push button – You will have to install four core cables from the DB to the push button.
Push Button For Swing and Folding Autogate
Sliding autogate system push button – The modern sliding motor normally includes a control panel built in. You'll need to have four core cables from the DB to the sliding push button.
Push Button For Sliding Autogate
More Devices:
Extra Remote Controls
Autogates are operated by remote control. You'll need to count the number of people in your family who will need a remote control for the system.
Also, if you are replacing an older autogate system, we can connect your existing remote control receiver into the new control panel. This will allow all of your existing remote controls to function with a new FBM autogate system.
WARNING!
Most locksmiths will be able to duplicate your remote control but we don't recommend that you clone your remotes. A cloned remote control is not as effective as an original. Much of the time, they simply don't work very well.
Electric Locks
Swing autogates will benefit from extra security with an electric lock installed. It will lock and unlock the gate automatically as it opens and closes. They are specifically made for FBM brand autogate systems but they are compatible with gate openers and equipment from other companies.
WARNING
We recommend ONLY bottom electric locks.
We don't recommend locks of the type pictured below. The bolt must fit into the strike plate absolutely perfectly of the lock will fail to engage.
Infrared Photo Beam Installations
An infrared photobeam will detect if there is anything blocking the path of your gate such as a person or vehicle.
WARNING!
An intruder can stop your autogate from closing by blocking the infrared photobeam. We don't recommend using this device.
What Makes A Good Autogate System?
If you've made it this far, you must already be wondering what makes an autogate system good.
It's not overly exciting to get a new autogate system, sure. If, however, you make a bad choice, you could end up regretting your purchase.
We have been in this industry and working with these systems for a long time. As you read through what we have to say, it should become obvious that we do know what we're talking about. Read on, consider our opinion, and judge for yourself.
Let's Look At Brands
There are well-known brands in the industry with reputations for making reliable autogate systems such as FBM (Malaysia), Mexigate (Malaysia), OAE (Malaysia), Beninca (Italy) and DEA(Italy). Then there are a lot of smaller brands that we wouldn't recommend.
The Smaller Brands Aren't Worth It
You may ask why.
The truth is that they just haven't been in business long enough to design and put together reliable autogate systems. The majority of autogate systems from these smaller companies will show defects quickly. Their systems are still being perfected. Some of them may last for a while, but in the end, do you want to risk your money on something that may or may not work?
What would you do if your autogate system breaks down and you find that the company has gone out of business when you try to call for help? Even a warranty is no good if there's nobody around anymore to honour it.
In this case, you might want to give us a call. We can help you! 012-295 6299
What Are Our Recommended Autogate Brands? Yes, it's FBM
We work with makers of autogate system from New Zealand, South Africa, the UK, and Italy; all well established. We have built relationships with many top local brands. Out of all of them, FBM is the only brand we feel we can rely on. You shouldn't buy any other brand, you could regret it.
Reliability, quality, and performance are what come to mind when anyone mentions FBM autogate systems. Their business is built on a rock solid reputation.
With years of experience already behind them, the company knows how to build on an already quality product. FBM's quality is unmatched, with over 35 years of autogate production experience. They do everything themselves. Their manufacturing facilities include all the necessary toold like CNC milling, CNC lathes, CNC laser cutting machines, press machines, water jet cutters, CNC cylindrical grinding, laser engraving machines and more. Getting spare parts for FBM equipment is also incredibly easy.
Reliability Above And Beyond Standard
After testing hundreds of arm autogate systems we could only choose FBM autogates to supply our products.
We will only work with manufacturers that do the manufacturing at their own facilities.
WARNING!! BEWARE!!
DON'T BUY FROM UNRELIABLE SOURCE
Thousands have been cheated!
It's not worth trying to save money by buying from someone unreliable.
Be wary of autogate installers that don't have their own physical showroom. You could fall victim to a hit & run scam.
Some unreliable autogate installers are jumping from one business to another. Today they are selling atuogate systems and tomorrow they'll be doing something else.
Watch out for installers that don't have fully equipped vehicles. Without the right tools and equipment to carry out the job, it's impossible for you to get a quality installation.
Many incidents, with unknown installers, the control panels, transformers and other components end up going bad within a year or so. You'll end up with an autogate that doesn't work and needing to replace the most expensive parts. Many times these installers are giving you used spare parts instead of new parts to save money and increase their own profits.
Don't spend your money on expensive swing or sliding autogate systems that either don't work or break down well before they should. Trust your gate installation only to an expert.
6 Things A Reliable Autogate Company Should Have
Legitimate showroom or company office
Inventory of spare parts
Spare new autogate systems
Experienced in-house installation teams
Minimum of 10 years of experience
Fully equipped work vehicles
Still Opening Your Gate Manually?
If you're opening your sliding or swinging gate manually, contact us to learn about all the advantages of an autogate system. You'll be able to open your gate with the touch of a button and enjoy the convenience, comfort, and extra security that an autogate provides.
Let's Autogate Your Gates Now!
We will advise you of the most suitable FBM autogate systems for your home or factory. Call now 012 – 295 6299