Auto Gate Wheel Rollers Jump Off The Track – Replaced Folding Gate Bottom Wheels In Cheras
Folding auto gate design anda masih baru sahaja dipasang tapi dah ada masalah auto gate roller dengan auto gate roller gate jump off track. Tak akan tak sampai setahun auto gate wheel jump off track? Boleh call kami untuk dapatkan heavy duty folding auto gate roller dimana kami mengunakan stainless steel auto gate bottom wheels made in malaysia, memang akan tahan karat dan tahan lama.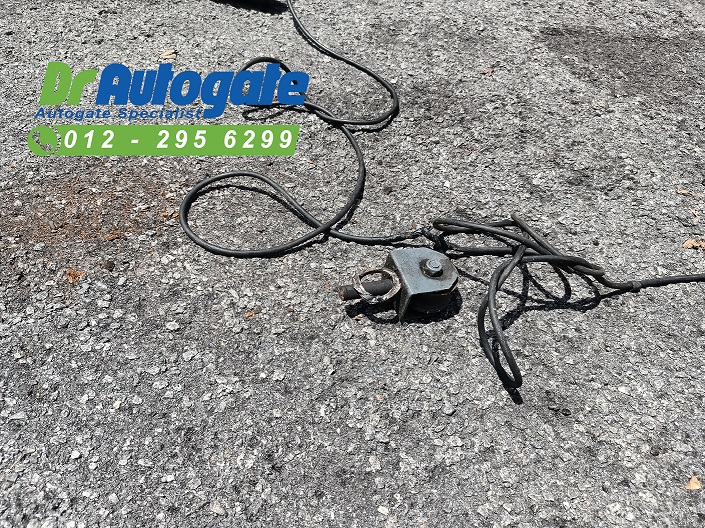 Ini yang terjadi kepada customer ini di Jalan Desa Permai 4, Taman Desa Permai, 43200, Selangor tengok pada gambar di bawah, folding auto gate design customer masih baru lagi, tak sampai setahun guna tapi sudah ada auto gate wheel damaged. Setiap kali auto gate dibuka gate bottom wheel akan melompat keluar daripada trek. Macam mana cepat sangat boleh ada auto gate roller problem? Kemungkinan gate contractor mereka berikan roda tayar autogate yang rendah kualitinya. Panggil mereka balik untuk datang buat auto gate roller wheel repair, ingat boleh claim warranty tapi tak boleh, mereka cas customer tinggi untuk replace new auto gate roller.
Memang tepat customer memilih Dr Autogate bagi membuat auto gate roller replacement. Kami bukan guna metal autogate roller biasa. Kami guna stainless auto gate roller malaysia, heavy suty auto gate roller memang tahan lama dan tahan karat. Kami juga akan adjust semula autogate level dan alignment supaya gate dan autogate bergerak lancar.
Kami menyediakan auto gate repair service Cheras! Baiki autogate anda dengan 3 langkah
Dapatkan bantuan untuk memperbaiki autogate anda dalam 3 cara ini
Ambil beberapa gambar autogate dan motor anda (dari kedua-dua bahagian)

Hantarkan gambar tersebut melalui Whatsapp pada 012 – 295 6299

Kami akan menghubungi anda untuk menetapkan masa untuk kami memberi servis
Tidak perlu tunggu lagi. Kami di sini ada membantu anda! Sila hubungi talian kami di 012 – 295 6299.
Here's what to do:
Take a few pictures of your gate and motor (from both sides)

Send the photos through WhatsApp to 012 – 295 6299
We will call to arrange an appointment for service

Apa yang anda fikirkan lagi, cepat hubungi Dr Autogate 012 – 295 6299 untuk penyelesaian masalah autogate anda dan juga boleh layari www.DrAutogate.com.my
Nak Pasang Autogate, Nak Servis Autogate.. Call lah Dr Autogate!
https://drautogate.com.my/wp-content/uploads/2021/04/Tukar-Roda-Autogate-Cheras.jpg
634
846
autogate
https://drautogate.com.my/wp-content/uploads/2019/05/dr-auto-logo.png
autogate
2021-04-16 07:31:10
2021-04-16 07:31:10
Auto Gate Wheel Rollers Jump Off The Track – Replaced Folding Gate Bottom Wheels In Cheras