Looking For Autogate Expert In Subang Jaya?
Susahkan bila autogate stuck tak boleh buka atau auto gate buka one side only, lebih-lebih lagi bila kereta parking dalam rumah, nak keluar tak boleh. Jika ini terjadi kepada anda, boleh terus hubungi autogate repair expert Dr Autogate, yang pastinya masalah autogate on the spot boleh selesai.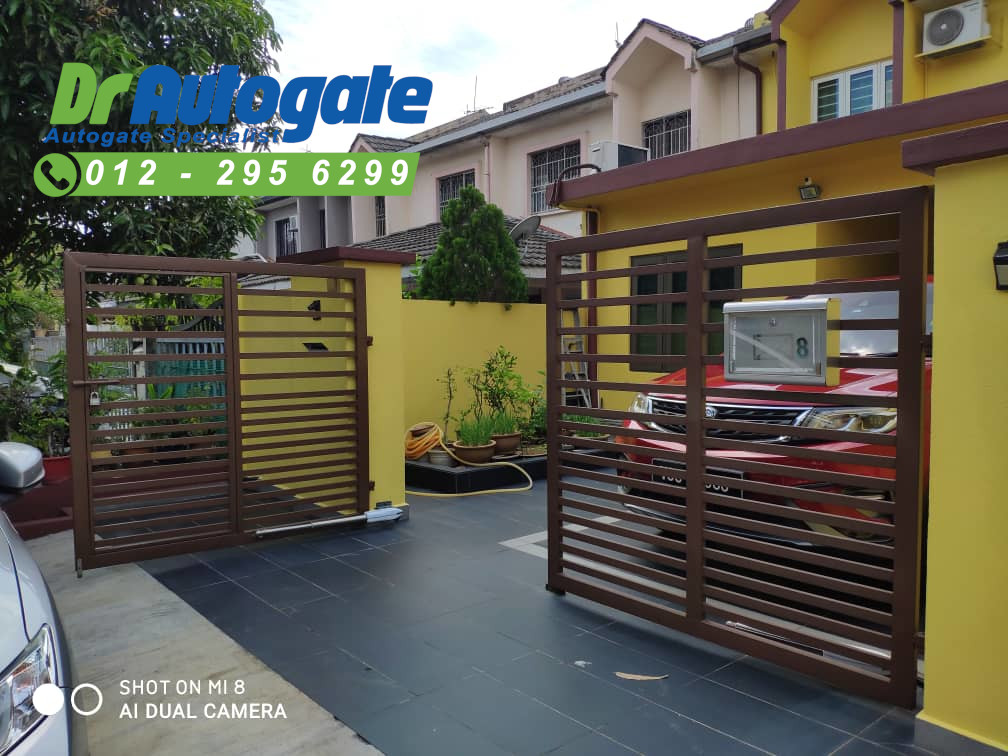 Kami baru habis selesaikan autogate motor problem untuk customer ini di Jalan PJS 7/11A, Bandar Sunway, Subang Jaya. Hanya one side dnor arm autogate boleh buka, sebelah lagi tak boleh dan nak keluarkan kereta pun tak boleh. Nasib baik kami memang berada di area rumah customer, boleh terus pegi lepas settlekan auto gate problem. Lepas autogate troubleshooting, rupanya dnor arm autogate motor yang tak berfungsi, dengan persetujuan customer kami gantikan dnor 712 auto gate arm.
Semua spare parts autogate yang diperlukan semua kami ada seperti auto gate control panel pcb board, d'nor auto gate motor arm, auto gate push button, power voltage transformer 230V, auto gate remote control 3 pcs, auto gate center locking safety, remote & receiver, gate rubber stopper, heavy duty dc motor dan macam-macam lagi. Kalau kami buat service auto gate repair, anda boleh tengok van service kami penuh dengan spare parts atau boleh datang kedai autogate puchong kami.
Kami menyediakan auto gate repair service Bandar Sunway! Baiki autogate anda dengan 3 langkah
Dapatkan bantuan untuk memperbaiki autogate anda dalam 3 cara ini
Ambil beberapa gambar autogate dan motor anda (dari kedua-dua bahagian)

Hantarkan gambar tersebut melalui Whatsapp pada 012 – 295 6299

Kami akan menghubungi anda untuk menetapkan masa untuk kami memberi servis
Tidak perlu tunggu lagi. Kami di sini ada membantu anda! Sila hubungi talian kami di 012 – 295 6299.
Here's what to do:
Take a few pictures of your gate and motor (from both sides)

Send the photos through WhatsApp to 012 – 295 6299
We will call to arrange an appointment for service

Apa yang anda fikirkan lagi, cepat hubungi Dr Autogate 012 – 295 6299 untuk penyelesaian masalah autogate anda dan juga boleh layari www.DrAutogate.com.my.
Nak Pasang Autogate, Nak Servis Autogate.. Call lah Dr Autogate!
https://drautogate.com.my/wp-content/uploads/2020/08/Arm-Autogate-Repair-Subang-Jaya.jpg
756
1008
autogate
https://drautogate.com.my/wp-content/uploads/2019/05/dr-auto-logo.png
autogate
2020-08-08 06:40:20
2020-08-08 06:43:42
Looking For Autogate Expert In Subang Jaya?