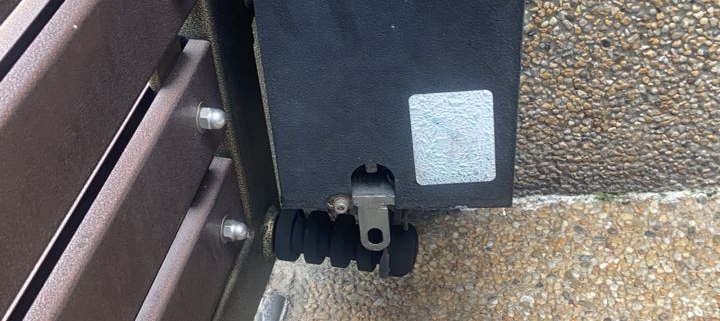 Taman Kemensah Legate Autogate Repair
Selepas mco, hampir 30 customer perlukan auto gate repair services dari kami dimana kebanyakannya original auto gate installer atau auto gate repairer mereka tak boleh bantu customer mereka sendiri. Kami dengan team autogate expert dengan membawa semua auto gate spare parts sedia membantu. Anda juga ada masalah autogate? Jangan risau kami sedia membantu.
Kami juga membantu customer di jalan mewah kemensah mewah 68000 taman melawati kuala lumpur dan beberapa customer lain di area situ juga yang ada masalah dengan Legate autogate system. Ia bukanlah famous autogate brand dan untuk spare parts legate autogate motor memang tak ada. Kalau legate auto gate control panel, legate autogate remote set kami ada spare parts kalau customer ada masalah dengan legate auto gate parts tersebut tapi kalau ada masalah dengan legate autogate motor itu yang masalah jadi kami akan recommend customer untuk pasang autogate baru dengan dapatkan autogate yang lebih mudah dari segi spare parts autogate dan maintenance nanti iaitu FBM 929 Arm Autogate System. Ada beberapa customer di kawasan ini yang telah kami gantikan kepada FBM Autogate dan ada juga kami hanya buat service repair dengan menggantikan auto gate control panel yang bermasalah.
Sekiranya anda tak pasti dengan masalah autogate boleh boleh hubungi kami untuk dapatkan pengesahan dan autogate anda akan diberi penyelesaian terbaik. Hubungi kami sekarang untuk dapatkan temu jangan seperti cara-cara dibawah.
Kami menyediakan Taman Kemensah auto gate repair services! Baiki autogate anda dengan 3 langkah
Dapatkan bantuan untuk memperbaiki autogate anda dalam 3 cara ini
Ambil beberapa gambar autogate dan motor anda (dari kedua-dua bahagian)

Hantarkan gambar tersebut melalui Whatsapp pada 012 – 295 6299 (tekan nombor ini untuk berhubung dengan kami)

Kami akan menghubungi anda untuk menetapkan masa untuk kami memberi servis
Tidak perlu tunggu lagi. Kami di sini ada membantu anda! Sila hubungi talian kami di 012 – 295 6299.
Here's what to do:
Take a few pictures of your gate and motor (from both sides)

Send the photos through WhatsApp to 012 – 295 6299 (click tel number to chat with us)
We will call to arrange an appointment for service

Apa yang anda fikirkan lagi, cepat hubungi Dr Autogate 012 – 295 6299 untuk penyelesaian masalah autogate anda dan juga boleh layari www.DrAutogate.com.my
Nak Pasang Autogate, Nak Servis Autogate.. Call lah Dr Autogate!
https://drautogate.com.my/wp-content/uploads/2021/09/Auto-Gate-Installation-Taman-Melawati.jpg
1280
720
autogate
https://drautogate.com.my/wp-content/uploads/2019/05/dr-auto-logo.png
autogate
2021-09-21 07:17:54
2021-09-21 07:17:54
Taman Kemensah Legate Autogate Repair