We Only Supply & Install High Quality Gate Bottom Wheels Made In Malaysia
Adakah anda menggunakan folding gate? Satu side auto gate roller mempunyai masalah? Anda fikir lebih baik menukar satu side sahaja? Anda kata harini anda tukar satu side roda bawah gate dan tukar satu lagi, anda okay macam itu? Jangan buang masa dan wang anda membaiki gate anda berkali-kali.
Daripada pengalaman kami jika satu side folding gate roller itu problem, beberapa hari kemudian belah roda lagijuga bermasalah. Tak sakit kepala, lebih baik menukar kedua-dua roda autogate.
Seperti customer ini di Ampang, selalu ada masalah dengan roda bawah gate, 3 kali customer dah tukar roda tapi mesti tukar satu side yang rosak sahaja. Tahun lepas customer tukar roda sebelah kiri, selepas 1 minggu sebelah kanan juga ada masalah. 6 bulan yang lalu sebelah kiri rosak lagi, customer bayar RM 350 untuk tukar satu side roller sahaja dan juga perlu panggil orang autogate pula untuk adjust auto gate alignment dan level sebab tukang besi mereka taktahu sistem autogate macam mana. Semalam customer call kami sebelah kanan pula masalah, roda terus tercabut.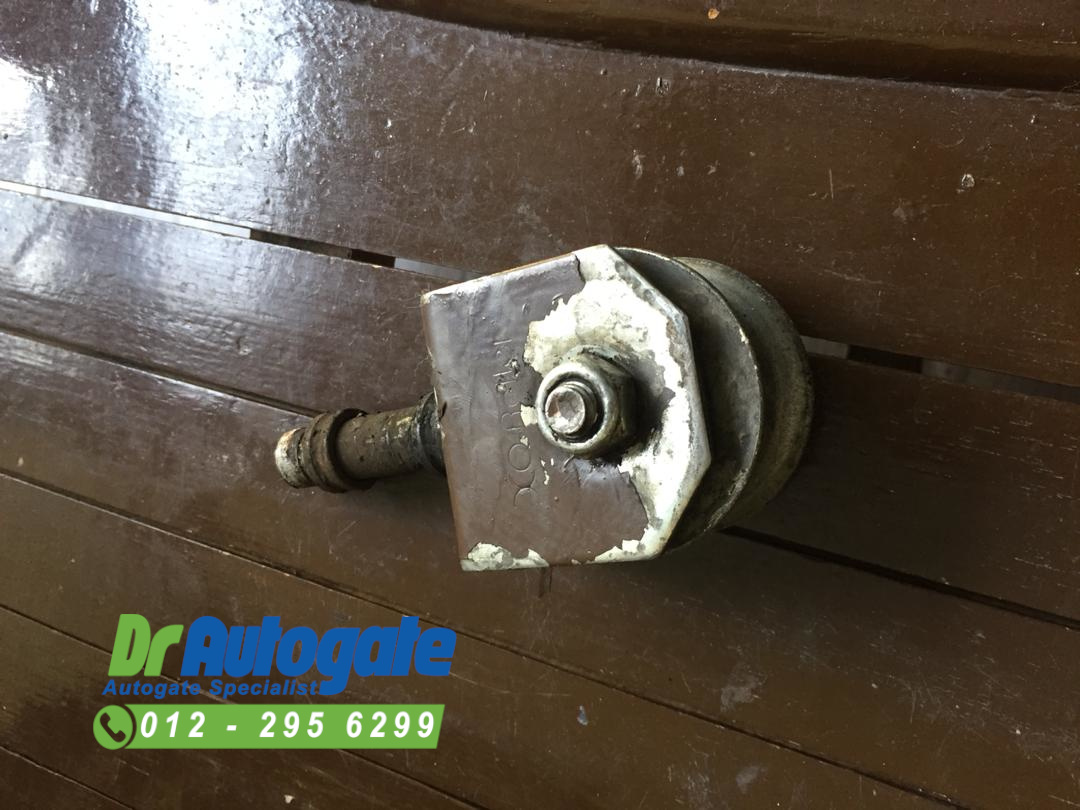 Kami minta customer untuk menukar kedua-dua belah roda bawah gate dengan high quality gate roller ada double bearing kat dalam, jadi tahan lama. Selepas autogate wheel kami kena adjust semula auto gate alignment dan level untuk pergerakkan yang lancar. Customer terkejut yang kami boleh buat gate dan autogate, customer kata kenapalah saya tak call Dr Autogate sebelum ini.
Kami menyediakan auto gate repair service Klang Valley! Baiki autogate anda dengan 3 langkah
Dapatkan bantuan untuk memperbaiki autogate anda dalam 3 cara ini
Ambil beberapa gambar autogate dan motor anda (dari kedua-dua bahagian)

Hantarkan gambar tersebut melalui Whatsapp pada 012 – 295 6299

Kami akan menghubungi anda untuk menetapkan masa untuk kami memberi servis
Tidak perlu tunggu lagi. Kami di sini ada membantu anda! Sila hubungi talian kami di 012 – 295 6299.
Here's what to do:
Take a few pictures of your gate and motor (from both sides)

Send the photos through WhatsApp to 012 – 295 6299

We will call to arrange an appointment for service

Apa yang anda fikirkan lagi, cepat hubungi Dr Autogate 012 – 295 6299 untuk penyelesaian masalah autogate anda dan juga boleh layari www.DrAutogate.com.my.
Nak Pasang Autogate, Nak Servis Autogate.. Call lah Dr Autogate!
https://drautogate.com.my/wp-content/uploads/2019/08/Autogate-Wheel-Damaged.jpg
810
1080
autogate
https://drautogate.com.my/wp-content/uploads/2019/05/dr-auto-logo.png
autogate
2019-08-08 08:54:54
2019-08-08 08:54:54
We Only Supply & Install High Quality Gate Bottom Wheels Made In Malaysia