Install And Repair Autogate Specialist
Dr Autogate sentiasa menjaga hubungi baik dengan customer dengan memberikan high quality auto gate system dan auto gate after sales support yang terbaik. Sudah lebih 25 tahun kami dalam industri autogate, kami memang pakar untuk auto gate installation sama ada install underground swing gate system, arm auto gate system atau sliding auto gate system. Mana-mana customer lama kami sebelasan tahun dulu, masih boleh mendapatkan auto gate services ini membuktikan kami adalah reliable auto gate company with good track record.
Kami menerima panggilan dari customer ini di jalan 8/3 bandar baru bangi yang merupakan customer lama kami yang mana 4 tahun lepas kami pernah baiki radion swing underground autogate nya sebelah kiri tidak berfungsi, kami datang tukar underground dc motor yang baru. Dan sekarang customer call kami semula tapi bukan untuk repair underground autogate tersebut, customer nak pasang autogate baru sebab semua kawan-kawannya yang guna underground autogate lama sudah tukar kepada FBM 929 Arm Autogate System. Sekarang memang sesuai nak pasang autogate baru, FBM 929 Arm Autogate kami tengah buat promotion harga autogate termasuk pasang.
Macam mana kami boleh selesaikan masalah autogate anda pada waktu yang masa, sebabnya kami sentiasa bawa semua auto gate spare parts seperti autogate control board, autogate swing gate controller, auto gate transformer 12V-9V-0V-9V-12V, auto gate remote control 433mhz, arm auto gate motor parts, auto gate backup battery, underground auto gate mini dc motor, underground auto gate gearbox, sliding auto gate pinion gear dan macam-macam lagi yang pastinya cepat dan berkesan.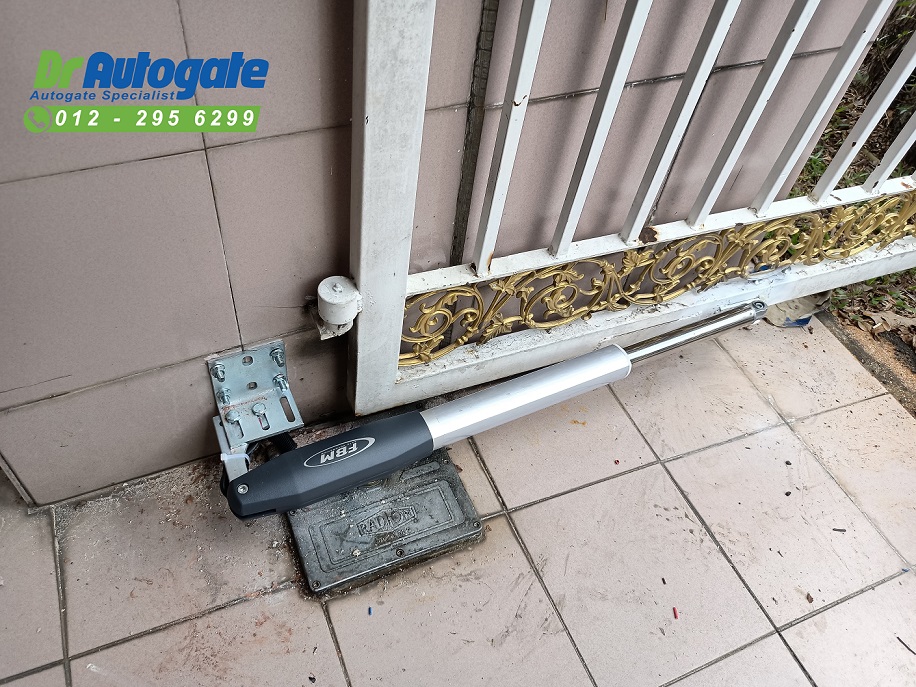 Kami menyediakan auto gate repair service Bandar baru Bangi! Baiki autogate anda dengan 3 langkah
Dapatkan bantuan untuk memperbaiki autogate anda dalam 3 cara ini
Ambil beberapa gambar autogate dan motor anda (dari kedua-dua bahagian)

Hantarkan gambar tersebut melalui Whatsapp pada 012 – 295 6299 (tekan nombor ini untuk berhubung dengan kami)

Kami akan menghubungi anda untuk menetapkan masa untuk kami memberi servis
Tidak perlu tunggu lagi. Kami di sini ada membantu anda! Sila hubungi talian kami di 012 – 295 6299.
Here's what to do:
Take a few pictures of your gate and motor (from both sides)

Send the photos through WhatsApp to 012 – 295 6299 (click tel number to chat with us)

We will call to arrange an appointment for service
Apa yang anda fikirkan lagi, cepat hubungi Dr Autogate 012 – 295 6299 untuk penyelesaian masalah autogate anda dan juga boleh layari www.DrAutogate.com.my
Nak Pasang Autogate, Nak Servis Autogate.. Call lah Dr Autogate!
https://drautogate.com.my/wp-content/uploads/2021/10/Autogate-Installation-Bangi.jpg
687
916
autogate
https://drautogate.com.my/wp-content/uploads/2019/05/dr-auto-logo.png
autogate
2021-10-22 05:58:46
2021-10-22 05:58:46
Dr Autogate Is Reliable Autogate Company With Good Track Record