Replacing Li Gates Underground Swing Auto Gate System With Our FBM Arm Autogate System
Masa kini terdapat pelbagai jenis model sistem autogate dan best brand auto gate yang ada dipasaran tetapi untuk mencari sistem autogate yang terbaik, yang tahan lama dan autogate spare parts mudah didapati itu yang sukar lebih-lebih lagi sekarang banyak kes penipuan. Dr Autogate iaitu pakar autogate akan memilih produk yang terbaik dari segi keberkesanannya, high quality auto gate system, tahan lama dan auto gate spare parts mudah didapati, kami akan menguji produk tersebut terlebih dahulu sebelum dipasaran. Setelah meneliti pelbagai jenis produk, FBM Super Heavy Duty Autogate System adalah yang terbaik.
Model autogate dan jenama autogate apa yang anda gunakan sebelum ini? Adakah ia masih berfungsi dengan baik? Berapa lamakah anda telah menggunakannya?
Sebelum ini customer menggunakan Li Gates underground auto gate system yang merupakan salah sati daripada product autogate kami, jadi semua spare parts Li Gates underground autogate system kami ada. Sebenarya kami pernah buat underground auto gate service repair untuknya 2 tahun lepas kalau tak silat, kami tukar satu side underground auto gate mini dc motor sebab masuk air. Kali customer call kami lagi satu side pula rosak, kali ini underground auto gate gear box dengan autogate dc motor pulak rosak. Harga baiki tukar parts untuk underground auto gate system sama dengan tukar full set arm auto gate system, akhirnya customer buat keputusan untuk tukar kepada FBM Arm Autogate System kami. Kami memang dah ready auto gate set baru dalam van, on the spot boleh tukar.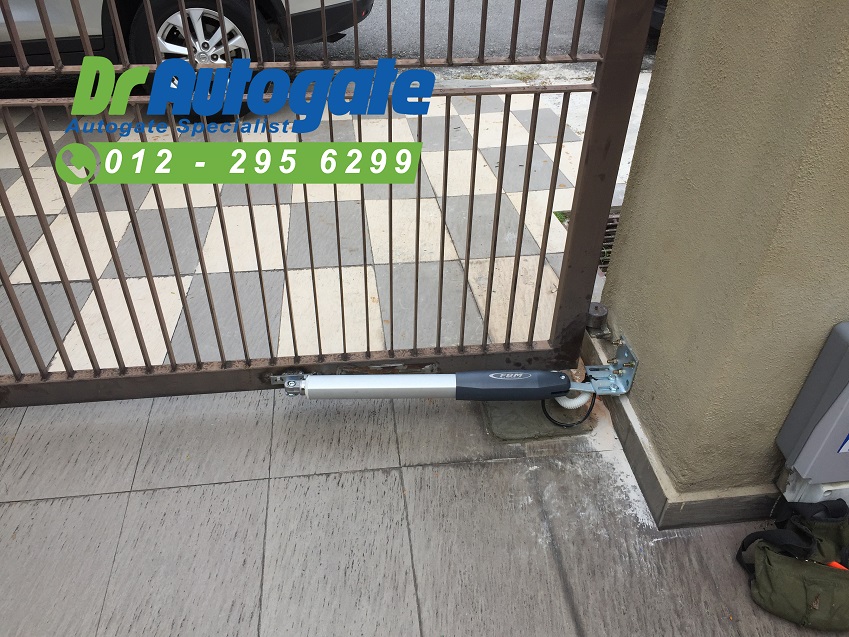 Sebab kenapa kami sentiasa bawa auto gate set baru dan autogate spare parts arm autogate spare part, sliding motor auto gate spare part sehingga ke underground autogate spare part seperti auto gate control panel, auto gate remote control, auto gate transformer, autogate dc motor dan banyak spare parts auto gate lain, ini kerana supaya kami boleh selesaikan masalah autogate customer secepat mungkin.
Kami menyediakan auto gate repair service Klang Valley! Baiki autogate anda dengan 3 langkah
Dapatkan bantuan untuk memperbaiki autogate anda dalam 3 cara ini
Ambil beberapa gambar autogate dan motor anda (dari kedua-dua bahagian)

Hantarkan gambar tersebut melalui Whatsapp pada 012 – 295 6299

Kami akan menghubungi anda untuk menetapkan masa untuk kami memberi servis
Tidak perlu tunggu lagi. Kami di sini ada membantu anda! Sila hubungi talian kami di 012 – 295 6299.
Here's what to do:
Take a few pictures of your gate and motor (from both sides)

Send the photos through WhatsApp to 012 – 295 6299

We will call to arrange an appointment for service

Apa yang anda fikirkan lagi, cepat hubungi Dr Autogate 012 – 295 6299 untuk penyelesaian masalah autogate anda dan juga boleh layari www.DrAutogate.com.my.
Nak Pasang Autogate, Nak Servis Autogate.. Call lah Dr Autogate!
Autogate anda terlalu lama, tibalah masa untuk tukar baru, kami berada di kawasan Jalan SS 1/1C –1/24B, Jalan SS 2/72 Kelana Jaya, Jalan SS 20/1 – SS 20/26, Jalan SS 20/27, Jalan SS 21/1 – SS 21/62, Jalan SS 21/1A – SS 21/56B, Jalan SS 5B/1 – SS 5B/6, Jalan SS 5C/1 – SS 5C/14 Jalan SS 5D/1 – SS 5D/11B, Jalan SS 5C/1 – SS 5C/14, Jalan SS 6/12, Jalan SS 7/13A, Jalan SS 7/19, Jalan SS 7/26, Jalan SS 7/26A, Jalan SS 8/39, Jalan SS 22/1 – SS 22/48, Jalan SS 22/20A – SS 22/39B, Jalan SS 22A/1 – SS 22A/8, Jalan SS 23/1 – SS 23/39, Jalan SS 23/6A – SS 23/19D, Jalan SS 3/59A – 3/59E, Jalan SS 4A/2 – SS 4A/15, Jalan SS 4B/1 – SS 4B/16, Jalan SS 4C/1 – SS 4C/20, Jalan SS 4D/2 – SS 4D/18, Jalan SS 5A/1 – SS 5A/17.
https://drautogate.com.my/wp-content/uploads/2019/08/Petaling-Jaya-Auto-Gate-Repair.jpg
637
849
autogate
https://drautogate.com.my/wp-content/uploads/2019/05/dr-auto-logo.png
autogate
2019-08-02 09:09:51
2019-08-02 09:09:51
Replacing Li Gates Underground Swing Auto Gate System With Our FBM Arm Autogate System