Looking For DCMoto GFM-925 Autogate Repair Expert? Dr Autogate Reputable Auto Gate Contractor Kuala Lumpur
We have heard many stories about the DCMOTO GFM-925. Many cases the previous autogate installers customer they cannot do autogate DCMoto autogate repair on the spot and not finishing the job even though you paid. He travels to different places to source for the spare parts but they don't seem to work on your autogate system. But no worries, you can call us if you need DCMoto repair service. We are more than happy to assist you.
We carry large quantity of replacement parts for DCMoto GFM-925AL and DCMoto GFM-903 as well, like E0052-Electronic Control Panel MD8285 dan dc moto auto gate transformer E0057-Power Transformer 230/13/75VA For MD8285, dcmoto auto lock A2028-AUTO LOCK Model: GKM-86N, dcmoto remote control E0039-Multi Function Remote Controller & E0031-Receiver Module Model: 3315R. DCMoto GFM-925AL & DCMoto GFM-925W is designed for swing and folding gate. It requires very little space, so you can install it just anywhere you like.
What are you waiting for, call us now
Here's what to do:
Take a few pictures of your gate and motor (from both sides)

Send the photos through WhatsApp to 012 – 295 6299

We will call to arrange an appointment for service
Mencari Pakar DCMoto GFM-925 Autogate? Dr Autogate Adalah Pilihan Tepat
Banyak kami dengar cerita mengenai DCMoto GFM-925 series ada masalah autogate. Banyak juga kes dimana original autogate installer tak baiki dcmoto autogate terus sebab mereka tak ada spare parts autogate dcmoto gfm 925 dan autogate repairer tidak selesaikan job walaupun anda dah bayar. Mereka pergi ke tempat berbeza untuk mencari alat ganti autogate, auto gate spare parts tapi mereka tak kelihatan untuk baiki autogate anda. Jangan risau, hubungi kami sekiranya ada perlukan dcmoto repair expert, yang boleh baiki dcmoto autogate anda dengan cepat.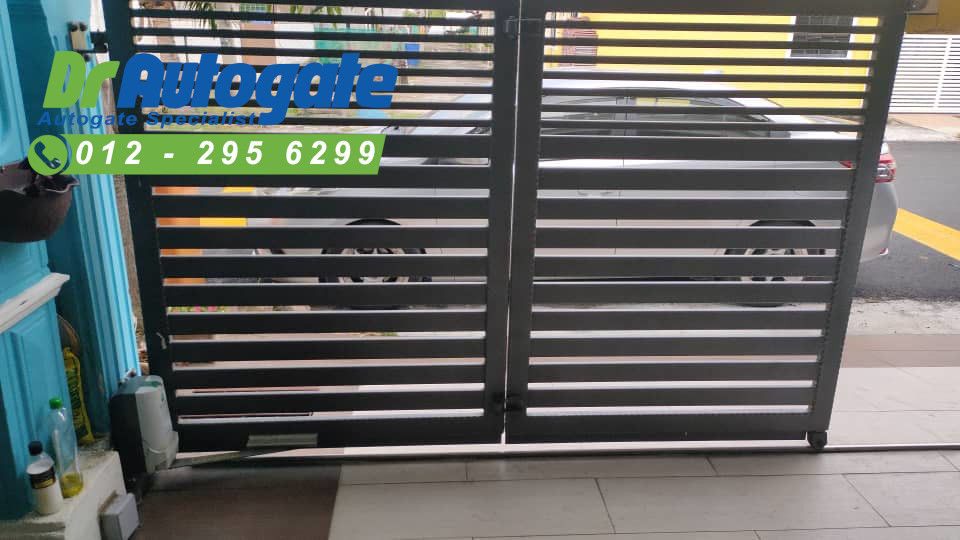 Kami mempunyai spare parts autogate untuk dcmoto gfm 925 dalam kuantiti yang banyak seperti dcmoto gfm autogate control board, dcmoto gfm-925wauto gate transformer, dcmoto remote duplicate, dc moto auto lock sebab itu boleh baiki autogate anda pada bila-bila masa.
Tidak perlu tunggu lagi. Kami di sini ada membantu anda! Sila hubungi talian kami di 012 – 295 6299.
Kami menyediakan auto gate repair service Ampang! Baiki autogate anda dengan 3 langkah
Dapatkan bantuan untuk memperbaiki autogate anda dalam 3 cara ini
Ambil beberapa gambar autogate dan motor anda (dari kedua-dua bahagian)

Hantarkan gambar tersebut melalui Whatsapp pada 012 – 295 6299

Kami akan menghubungi anda untuk menetapkan masa untuk kami memberi servis
Apa yang anda fikirkan lagi, cepat hubungi Dr Autogate 012 – 295 6299 untuk penyelesaian masalah autogate di Ampang anda dan juga boleh layari www.DrAutogate.com.my.
Nak Pasang Autogate, Nak Servis Autogate.. Call lah Dr Autogate!
https://drautogate.com.my/wp-content/uploads/2020/08/DCMoto-GFM-925-Repair-Ampang.jpg
960
540
autogate
https://drautogate.com.my/wp-content/uploads/2019/05/dr-auto-logo.png
autogate
2020-08-14 06:55:35
2020-08-14 06:59:56
Looking For DCMoto GFM-925 Autogate Repair Expert? Dr Autogate Reputable Auto Gate Contractor Kuala Lumpur