We Supply & Replace High Quality Auto Gate Bottom Wheel (Can Last Long)
Kami menggantikan folding auto gate roller untuk customer ini di Jalan KP 2/12, Kota Perdana, 43300 Seri Kembangan. Tengok folding auto gate design masih baru dan customer beritahu tak sampai setahun lagi pasang pintu pagar dan dcmoto autogate tersebut. Gate contractor ada datang tukar roda tayar autogate sebelum ini dan bukan percuma, dua kali tukar dua kali bayar. Sekarang ini auto gate roller jump off track lagi dan customer tak akan panggil kontraktor tersebut lagi.
Hampir seminggu juga customer roda autogate tu rosak, nasib baik abang customer di Lestari Putra Seri Kembagan ada lagi contact number Dr Autogate. Kami yang tukar autogate roller dan dah hampir 4 tahun tak pernah ada masalah. Untuk adiknya pun kami buat dan guna semua barang yang sama iaitu guna stainless steel auto gate roller dan kami adjust autogate level dan alignment. Mungkin gate contractor sebelum ini guna roda autogate yang berkualiti tinggi rendah dan tak adjust autogate motor tersebut.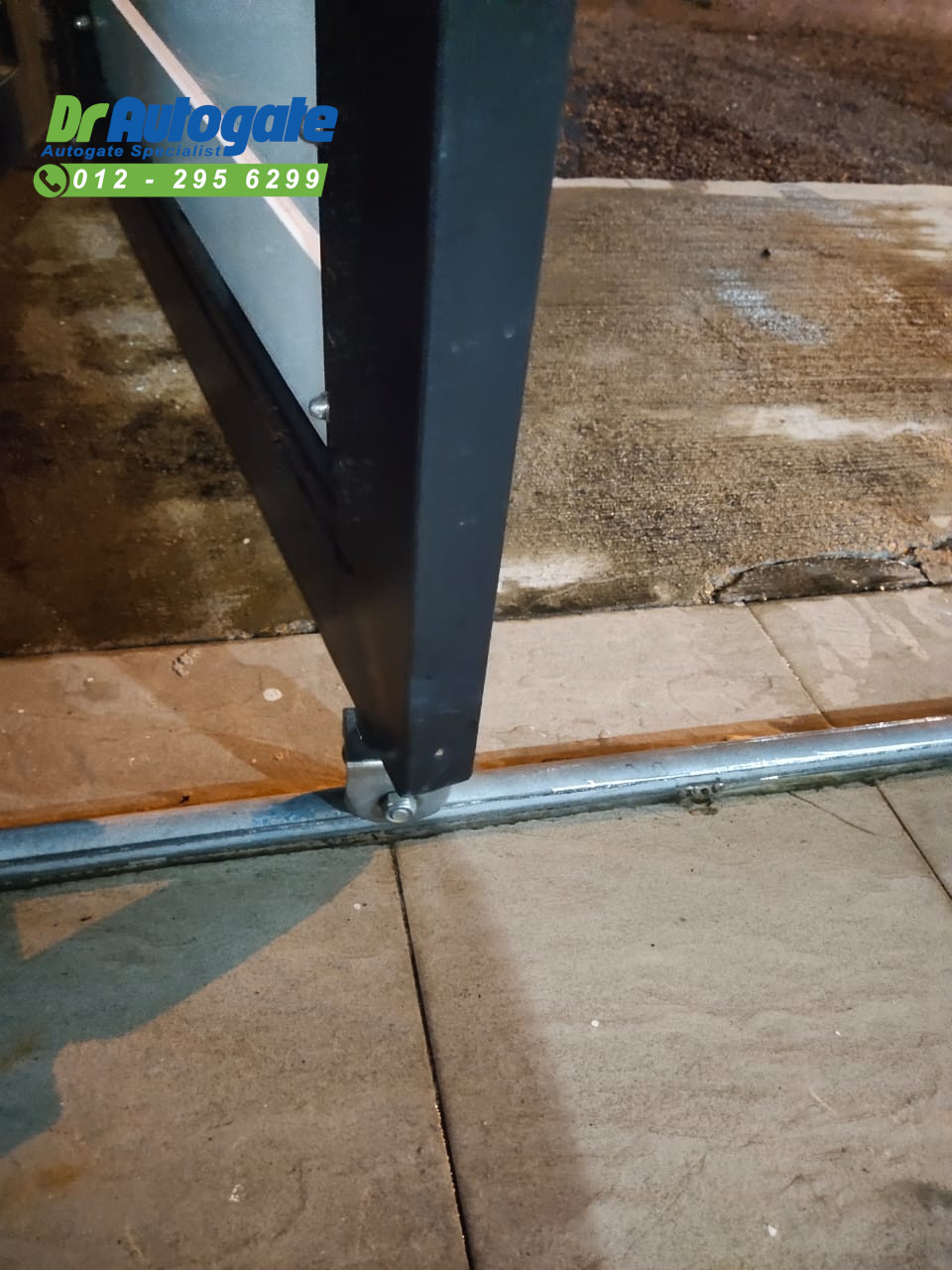 Macam nak buat roda autogate anda tahan lebih lama? Kena panggil mereka yang pakar dan pengalaman, pastikan guna folding auto gate roller wheel high quality serta heavy duty autogate wheels digunakan dan kena adjust semula autogate alignment, guna cara setting auto gate dengan betul serta pastikan juga laluan trek anda bersih dari batu, daun kering. Kalau semua ini ada, auto gate roller akan tahan lama.
Kami menyediakan auto gate repair service Seri Kembangan! Baiki autogate anda dengan 3 langkah
Dapatkan bantuan untuk memperbaiki autogate anda dalam 3 cara ini
Ambil beberapa gambar autogate dan motor anda (dari kedua-dua bahagian)

Hantarkan gambar tersebut melalui Whatsapp pada 012 – 295 6299 (tekan nombor ini untuk berhubung dengan kami)

Kami akan menghubungi anda untuk menetapkan masa untuk kami memberi servis
Tidak perlu tunggu lagi. Kami di sini ada membantu anda! Sila hubungi talian kami di 012 – 295 6299.
Here's what to do:
Take a few pictures of your gate and motor (from both sides)

Send the photos through WhatsApp to 012 – 295 6299 (click tel number to chat with us)
We will call to arrange an appointment for service

Apa yang anda fikirkan lagi, cepat hubungi Dr Autogate 012 – 295 6299 untuk penyelesaian masalah autogate anda dan juga boleh layari www.DrAutogate.com.my
Nak Pasang Autogate, Nak Servis Autogate.. Call lah Dr Autogate!
https://drautogate.com.my/wp-content/uploads/2021/11/Repair-Autogate-Wheel-Seri-Kembangan.jpg
1280
960
autogate
https://drautogate.com.my/wp-content/uploads/2019/05/dr-auto-logo.png
autogate
2021-11-05 05:46:51
2021-11-05 05:46:51
We Supply & Replace High Quality Auto Gate Bottom Wheel (Can Last Long)